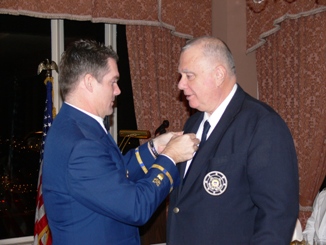 CWO Leavell (left) Presents Ralph Tomlinson with his AUXOP Device During the Division 33 Change of Watch
The AUXOP, or Operational Auxiliarist, program is an advanced training program available only to members of the Coast Guard Auxiliary. An AUXOP member has completed six advanced specialty courses and is entitled to wear the special AUXOP device on the uniform. Those courses are Seamanship, Navigation, Patrols, Communications, Weather, and Search & Rescue.
The Director of Auxiliary controls the examinations for the AUXOP Specialties. All of the examinations are closed-book.
For the past few months several members of Flotilla 4 have been working hard to complete all of these courses. Ralph Tomlinson is the first member of Flotilla 4 to earn this prestigious award. Congratulations to Ralph. Hopefully more members of our Flotilla can accomplish this as well.


AUXOP Device